Get the RingCentral app for free
Communicate your way with team messaging, video meetings, and a modern business phone—all in one place.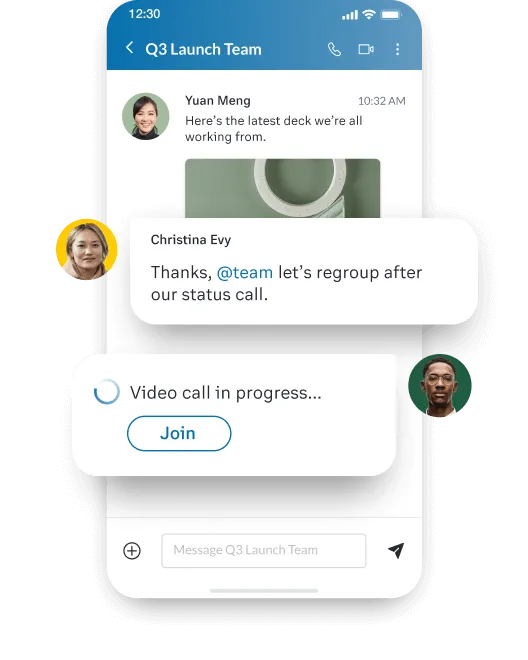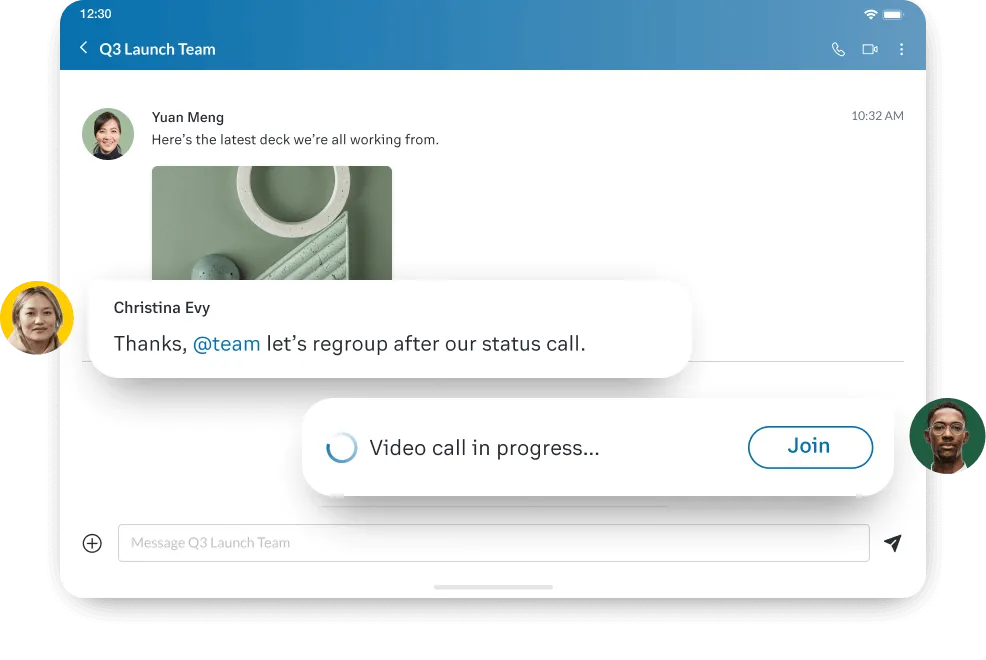 All the communication and collaboration tools you need in one unified app
Make and receive VoIP calls and get access to cloud PBX features such as call routing, call forwarding, auto-attendant, voicemail, and more.
*available only to MVP subscribers
Host unlimited video meetings and invite up to 200 participants. Keep team members, customers, and partners connected with video conferencing features such as screen sharing, in-meeting chat, call recording, live transcription, and more.
Integrate with 200+ business apps such as Google Workspace, Salesforce, and Microsoft 365. Build custom workflows for your unique business needs with RingCentral APIs.
Enhance team communication and collaboration with instant messaging, SMS, file sharing, task management, and more.
Frequently Asked Questions
Yes. You can download the RingCentral mobile app on iOS and Android mobile devices and the RingCentral desktop app on Windows and Mac for free. You can create a free account with RingCentral Video Pro, then upgrade to paid plans like RingCentral Video Pro+ and RingCentral MVP at any time.
RingCentral MVP is a UCaaS solution that combines business communications functions—messaging, video conferencing, and phone calls—into one unified platform.
RingCentral Video is a video conferencing solution with built-in team messaging that allows you to start, schedule, or join meetings from anywhere and on any device—browser, desktop, and mobile phones. You can use the free version, RingCentral Video Pro, or upgrade to RingCentral Video Pro+ or RingCentral MVP for more advanced video calling features.
Your RingCentral MVP plan includes one main, company-level phone number, which can be either a toll-free number or a local number. Your second phone number or every additional local number costs $4.99 a month.
You can make unlimited VoIP calls and conference calls using the RingCentral app. With your RingCentral MVP plan, you get unlimited phone calls within the US and Canada. For other international calls, RingCentral offers international calling plans and bundles at an affordable price.
The RingCentral app is accessible as a desktop app, mobile app, and also a browser-based app. Moreover, the RingCentral app is compatible with Windows, MacOS, Android and iOS operating systems. Please visit our
support site
for more detailed hardware and software compatibility information.