The complete webinar platform
Launch live webinars where you launch everything else: right from your RingCentral app.
Invite up to 10,000 participants and 100 panelists.
View engagement, quality, and performance analytics.
Set up in seconds and manage practice sessions.
Add leading apps to track registrations easily.
Get a familiar user experience on a secure and trusted platform.
Give everyone a front-row seat
Unite your whole organization over one easy broadcast.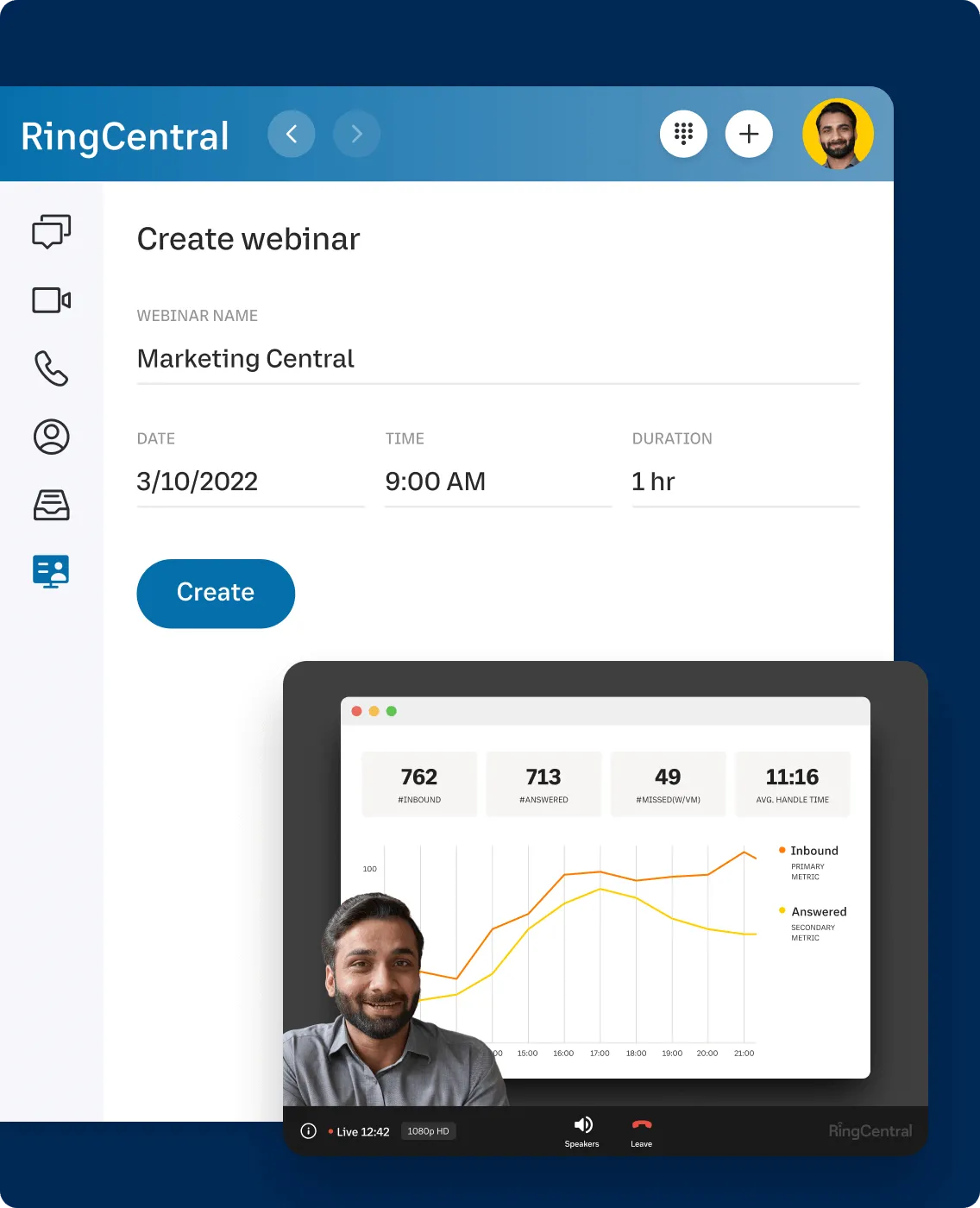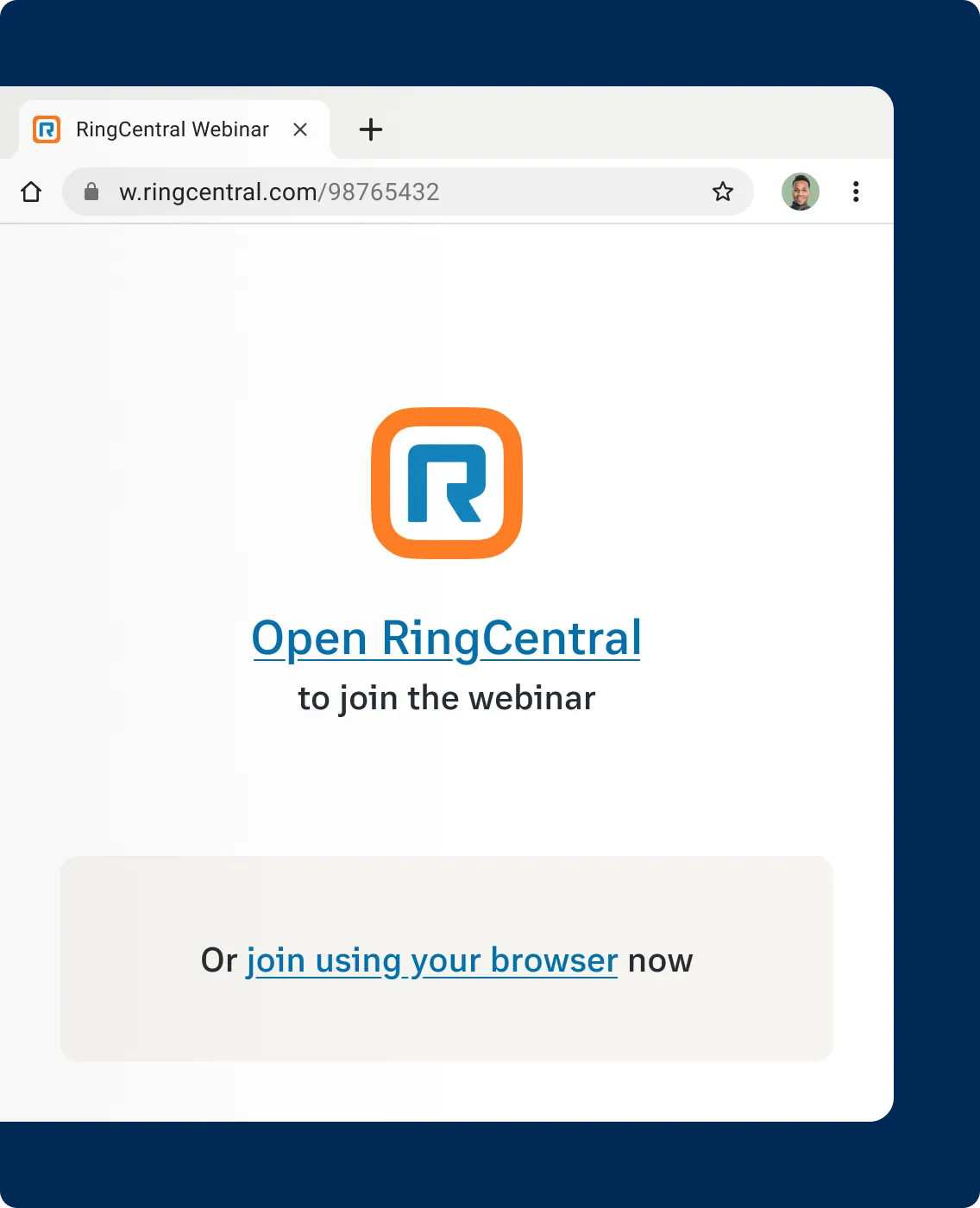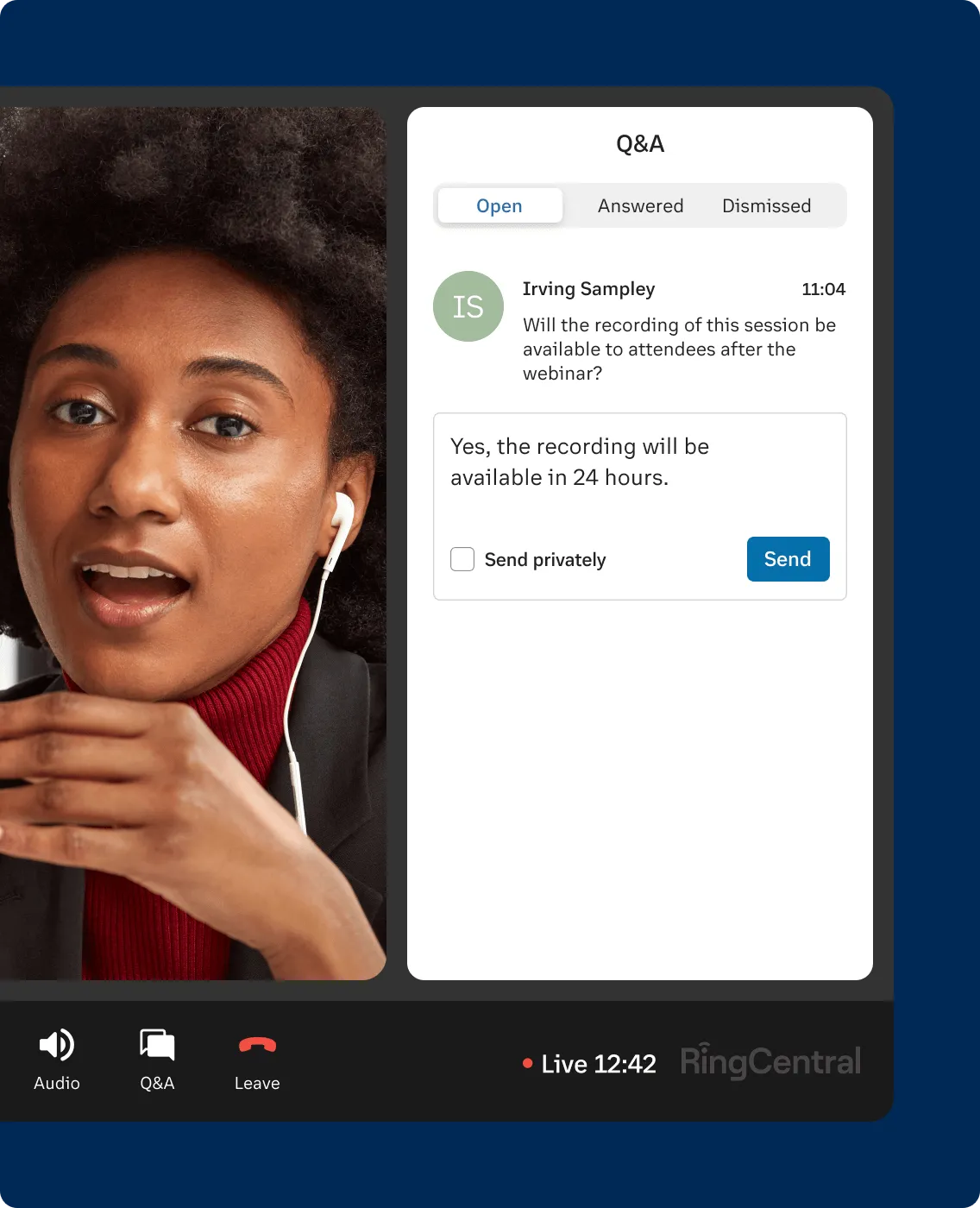 Give everyone a front-row seat
Unite your whole organization over one easy broadcast.
Features that keep everyone focused
Features that keep everyone focused
Participants can ask, tag, and upvote questions while hosts can follow-up directly in the chat.
Hosts can rehearse, refine, and get prepared before the live stream.
Easily record and share your webinars and access past recordings from any desktop or mobile browser.
Get advanced camera settings for hosts that intuitively follow your movements while presenting.
Gain insights from participants by creating customized questions at the registration stage.
Coming 2023
Monitor the performance of your webinars in real-time from the RingCentral Analytics Portal.
Add a virtual background for a polished appearance no matter where you are.
Add your logo to registration forms, so invitees recognize your webinar right away.
Coming 2023
Put a face to your ideas by overlaying your video while screen sharing to create a "weather person" visual effect.
Automatically highlight speaking hosts so participants can follow along.
Hosts can launch webinars from a web browser or the RingCentral desktop app. Panelists can also join from a web browser or the desktop app as well as the mobile app or a RingCentral Rooms setup.
Attendees can join webinars from a web browser or the RingCentral mobile or desktop apps.
Hosts and co-hosts can automatically keep panelists in the session to debrief in private after the end of their webinar. Discuss next steps securely and privately without having to reconvene and start a separate meeting.
When running the webinar, the webinar host can click to see which panelists are yet to join. Then tap to send them an email reminder to join. So all your panelists get reminded without you having to chase after them one-by-one.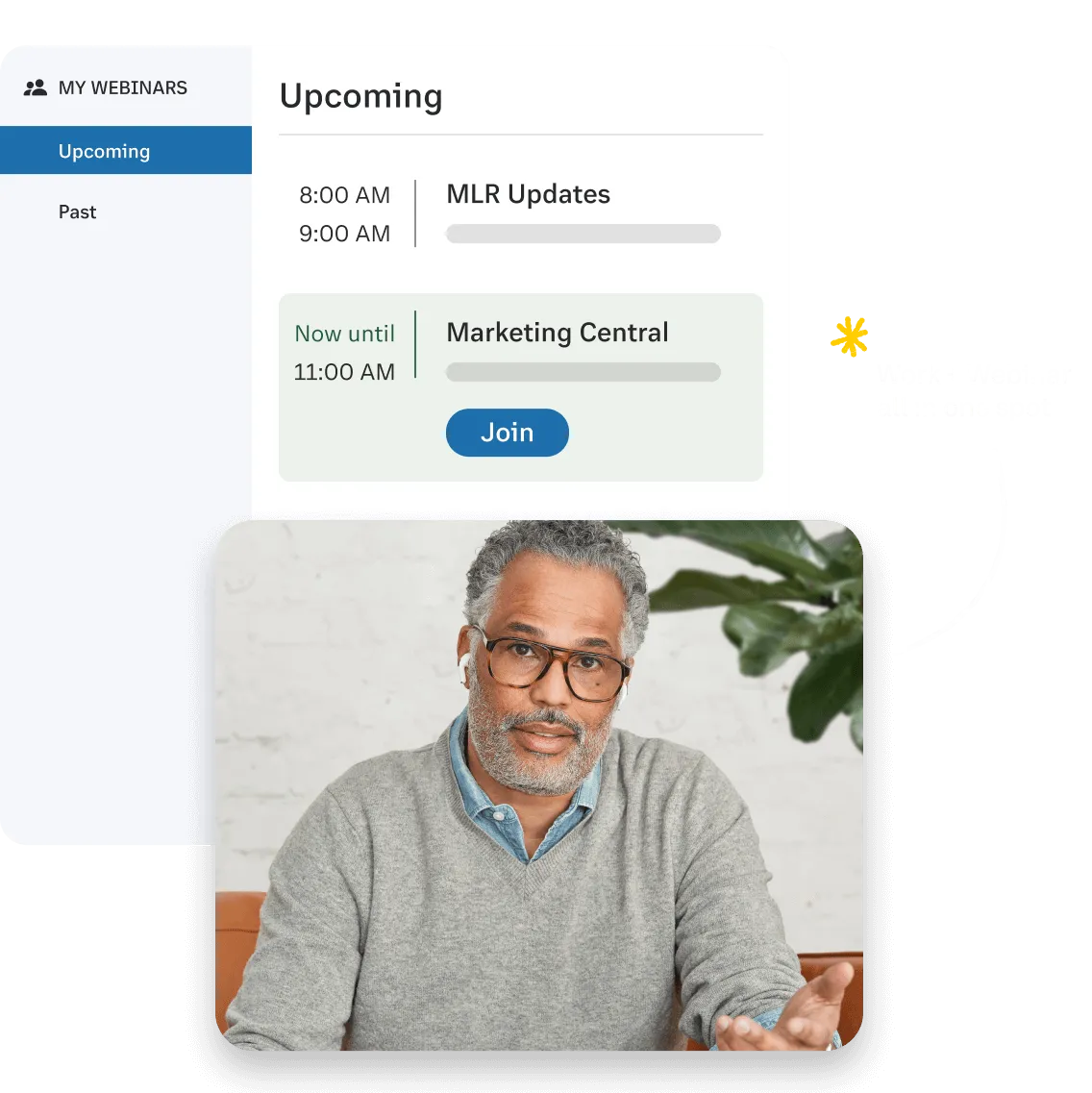 Live webinars are a tab away
We placed our useful webinar tool beside all your other favorite communication tools: on the RingCentral app. So your meetings, calls, messages, and webinars all stay together on one platform.
Whether you're a new or existing customer – or ready to start streaming today,
we make it easy to add on RingCentral Webinar.
Existing RingCentral Customers
Add on RingCentral Webinar to your existing account with the help of a RingCentral expert.
New RingCentral Customers
Select a RingCentral plan, then add on RingCentral Webinar to your new account.
New users under 100 lines
Need to go live right away? New users with under 100 lines can select a RingCentral plan, and add on RingCentral Webinar at checkout.
Webinars that work like you
RINGCENTRAL WEBINAR™ FOR SMALL BUSINESS
Share your big ideas with more prospects
Turn webinar participants into customers and grow your business.
Create unique events for prospects, customers or employees
Onboard with ease
Grow your company internationally
Generate stronger leads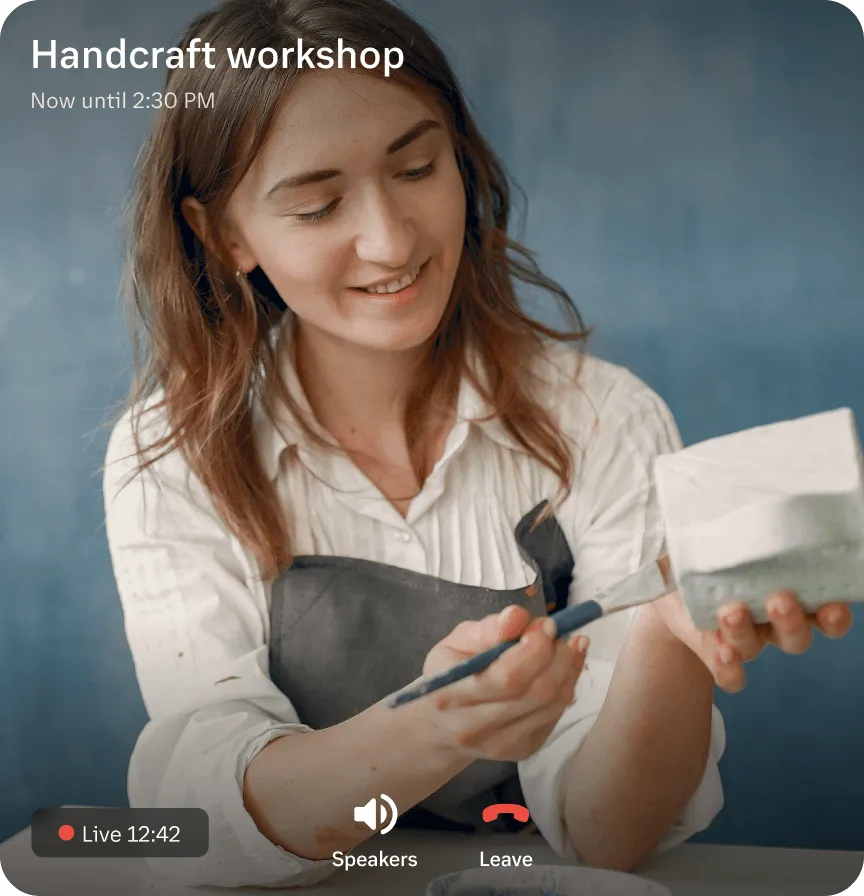 RINGCENTRAL WEBINAR™ FOR ENTERPRISE
Take the stage with confidence
Wherever your audience is, they'll be able to hear important updates directly from you.
Present to up to 10,000 participants
Quickly launch all-hands events
Create consistent, live-streamed demos and trainings
Get event ROI and analytics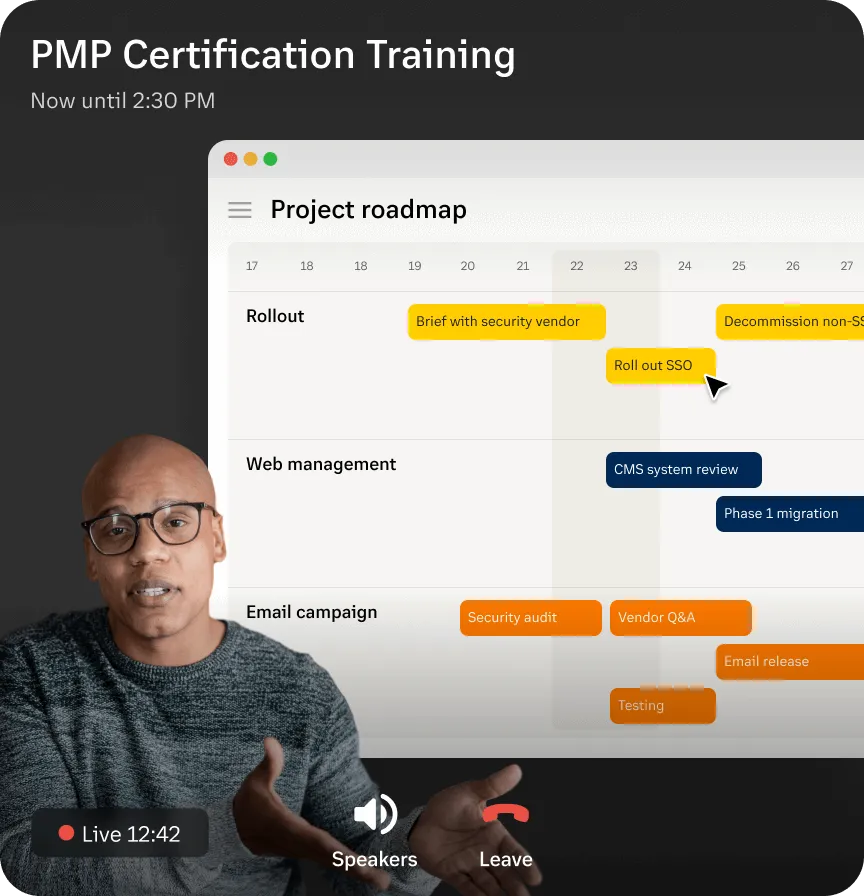 RINGCENTRAL WEBINAR™ FOR INDUSTRIES
Engage in a new way with a webinar platform that supports the needs of your industry.
Grow and engage your network
Create unique live-streamed seminars, trainings, and events
Rally teams and partner organizations around big initiatives
Broaden awareness of your offerings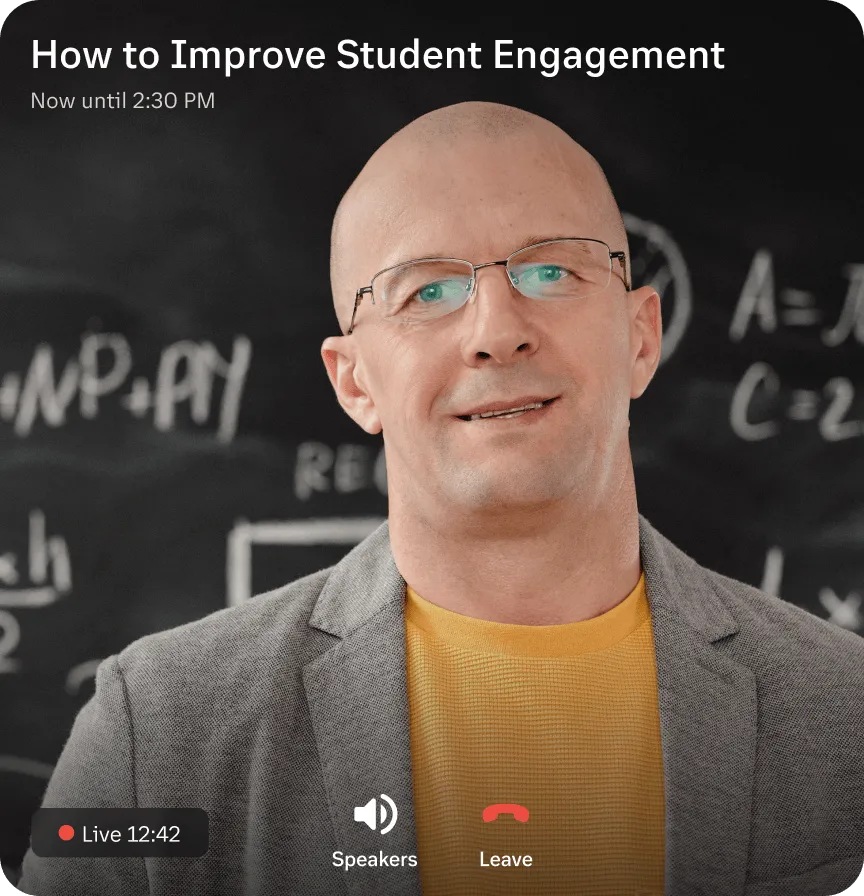 Your webinar stays secure

Get transparency and explore 3rd-party validated resources at our Trust Center
Ultimately putting on the show has been streamlined in RingCentral Webinar. It couldn't be easier.
Kris Kleinschmidt - IT Specialist, Pacific Fishery Management Council
Explore more ways to work together
Expand your platform with innovative add-ons like RingCentral Rooms™, RingCentral Integrations, and RingCentral Analytics.
Make any room a meeting room, and keep hybrid teams connected in and outside the office.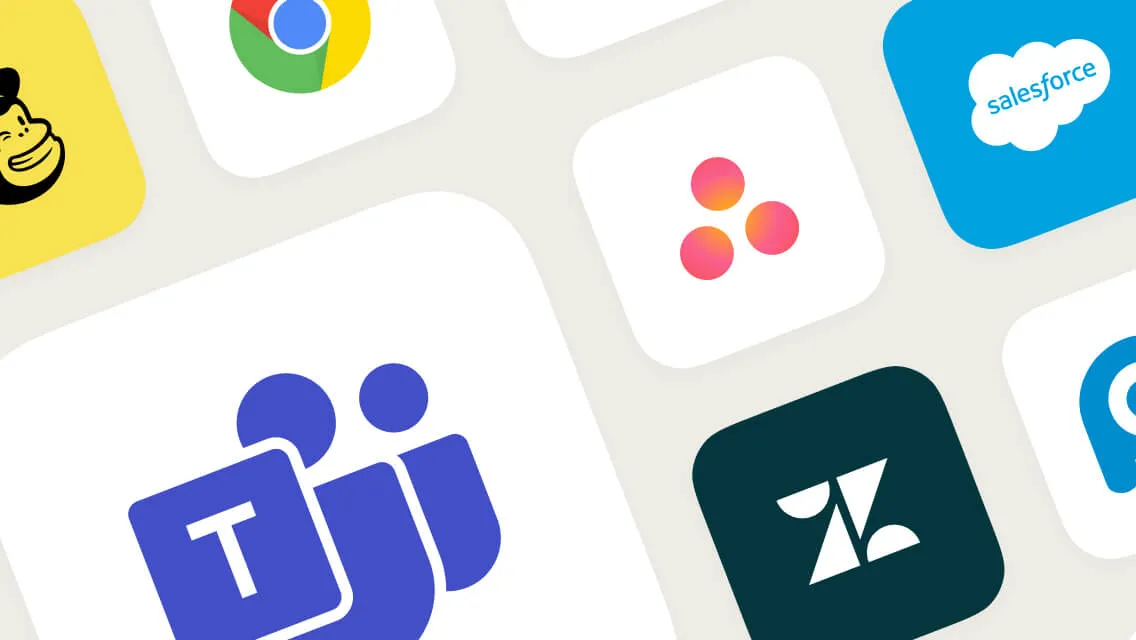 Build, explore and add the integrations you and your teams need into RingCentral.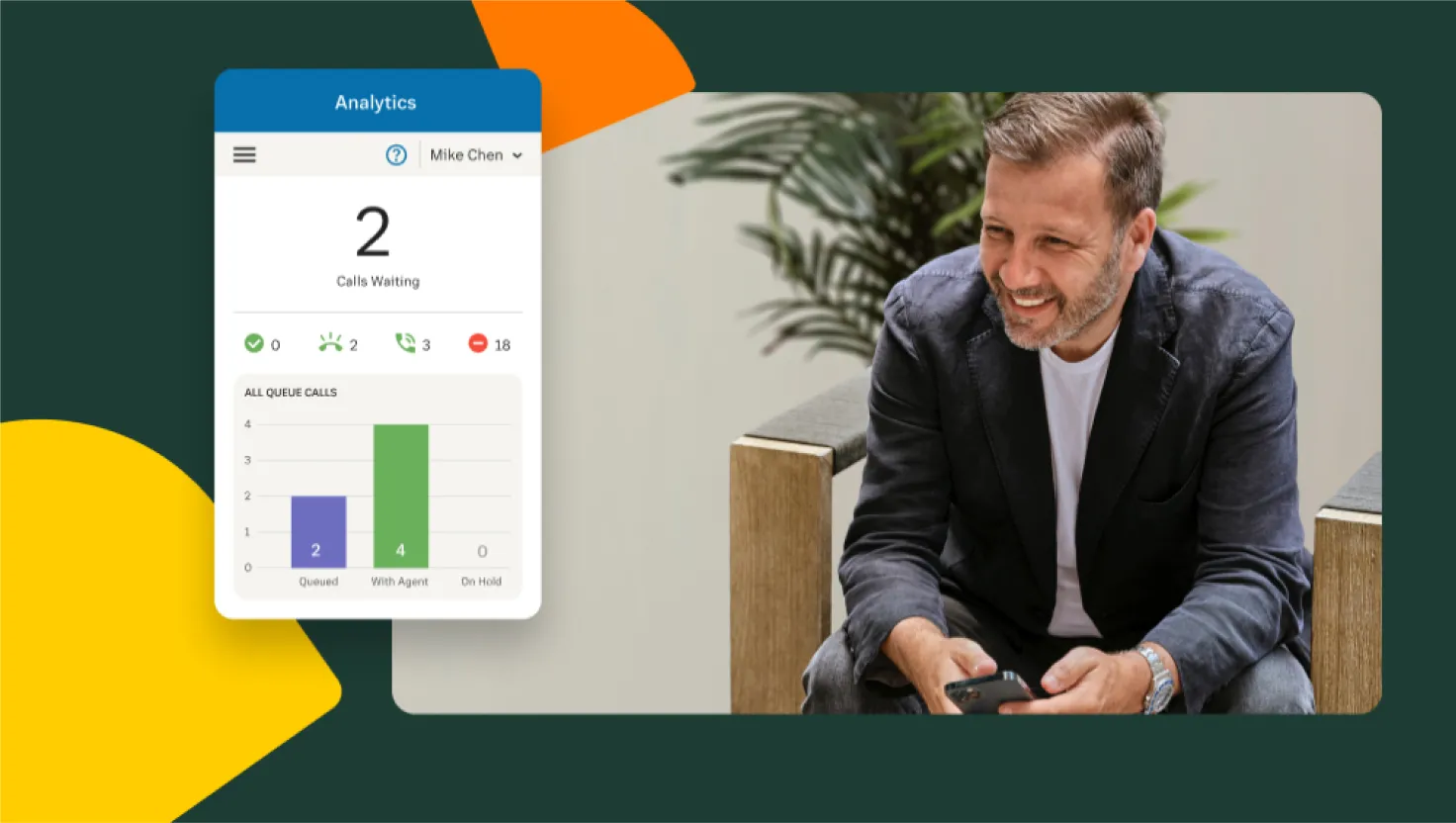 Get real-time insights into the quality of your webinars and video meetings with RingCentral MVP Analytics™.
Explore additional features and capabilities in our RingCentral Webinar™ Datasheet.
Frequently Asked Questions
No. Panelists and Attendees can join a RingCentral Webinar™ from a sharable web browser link or the RingCentral desktop and mobile apps. Just like a RingCentral video conferencing meeting.
Unless specified by the host, panelists and attendees do not need to sign in or sign up for an account to attend a RingCentral Webinar™.
However, hosts require a RingCentral account to set up a webinar.
New and existing RingCentral customers: Contact sales to set up your account and add on RingCentral Webinar™ with the help of an expert.

New customers with under 100 lines: Set up your RingCentral account over our intuitive portal and add on RingCentral Webinar™ from the 'Add-ons' stage during checkout.
RingCentral Webinar is currently available in the USA, Canada, United Kingdom, EU, Australia, India, and Singapore. Support for Switzerland and additional countries will be coming soon.
You can add on RingCentral Webinar™ to Standard, Premium, Ultimate, and Global Ultimate RingCentral MVP plans, in addition to RingCentral Video Pro+ plans.
Yes, you can. Invite prospects, vendors, or guests with your secure RingCentral Webinar™ link.

You can even customize your RingCentral Webinar™ invite to include any important details, gather participant data, and secure your session with a password.
During a video conference or online meeting, participants can chat and interact with the hosts and other participants during the meeting.
With a webinar tool, you have the functionality for participants to enter as audience members. That means they don't have to remember to go on mute or have the ability to screen share as they would in a video meeting. All participants can enter your virtual event without any distractions and stay focused on the host.
There are a lot of best practices for webinars. An excellent place to start is with a solid and engaging title for your event. Give additional details on what participants can expect with a short description, or even add a personal logo for a more branded touch in the RingCentral Admin panel.
Practicing your webinar presentation is key. Quickly rehearse with fellow panelists beforehand using the RingCentral backstage host prep features.
Lastly, give your participants something to take away from your virtual event. Share out your webinar presentation with your audience by creating a unique and shareable link from the host panel, or create an evergreen library of on-demand webinars that can be shared again and again.